UV-C DEEPLIGHT® Solutions
Up to 99 % of virus et bacteria eliminated.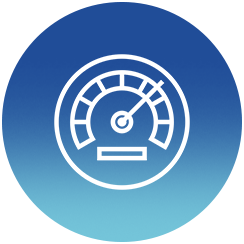 EFFICIENT
Up to 99 % eliminated viruses.
Tested at the CNRS on Covid-19.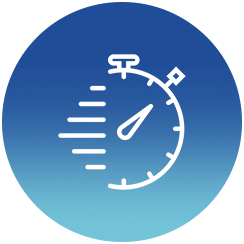 FAST
Effective in 3 minutes depending
of the surface to be treated.

Tested on covid-19 in laboratory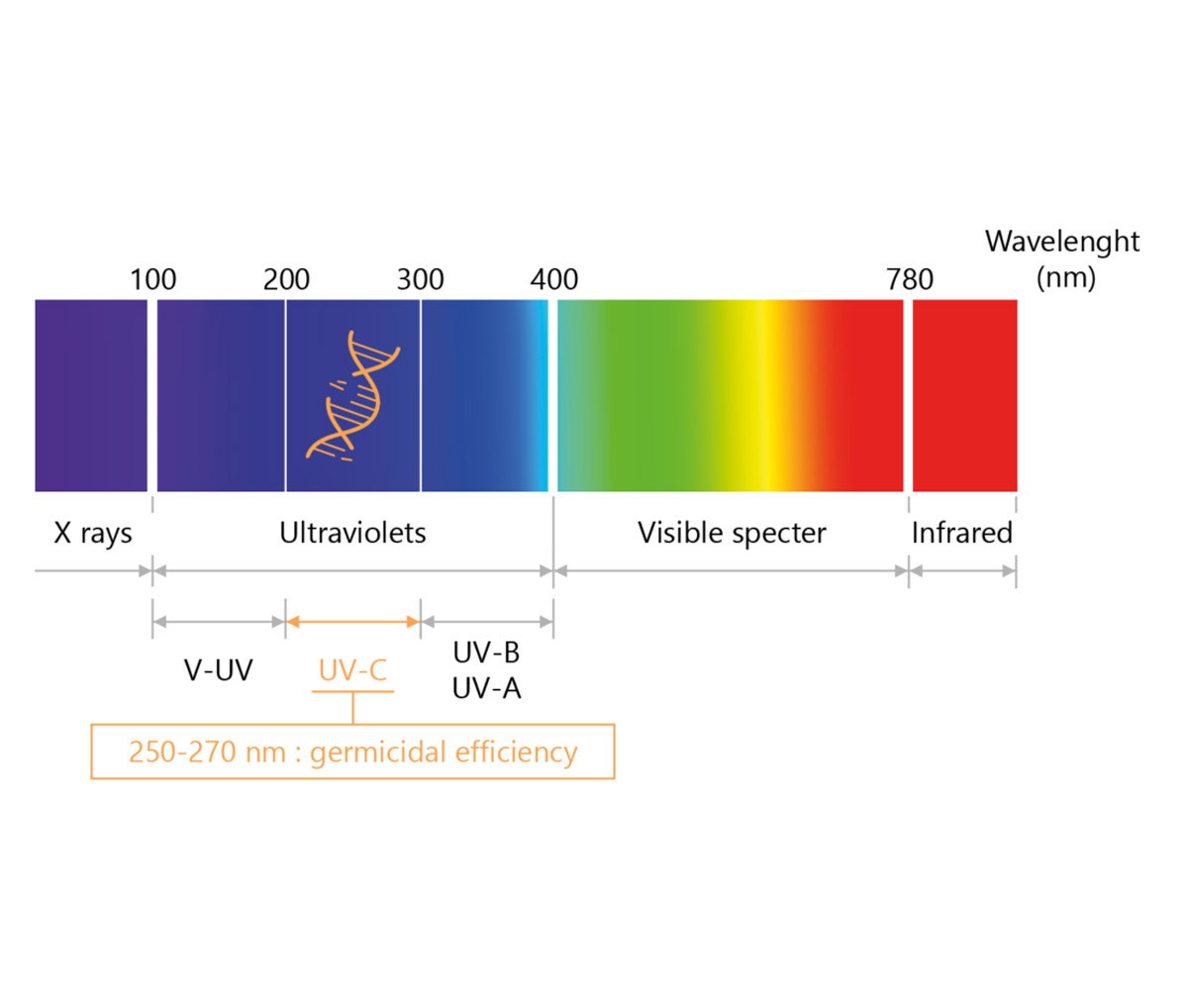 Since the UV-C light is part of the ultraviolet, it is invisible to the human eye. Its characteristic wavelengths are between 210 and 310 nanometers, but its germicidal and virucidal effectiveness peaks between 250 and 270 nanometers (nm).
DEEPLIGHT® disinfection solutions are calibrated to emit 254 nm wavelengths, allowing maximum effectiveness on viruses and bacteria.
Viruses and bacteria are composed of nucleic acids (DNA/RNA) that are very sensitive to the spectrum of UV-C light, which is what makes UV-C disinfection technology so effective.
The energy brought by the UV-C is absorbed at the nitrogenous base of the nucleotides allowing the creation of covalent bonds between two adjacent nucleotides. The photoproducts formed concern 3 types of bonds: T-T (called the thymine dimer is the most frequent), T-C and C-C. These three bonds distort the structure of the viral genome by introducing folds that make replication difficult or impossible.
The RNA has uracil instead of thymine. However, the uracil dimer is more difficult to form than the pyrimidine dimer, which is the most common. Thus, DNA is more sensitive to UVC than RNA (A. Ben Messaoud 2009)
The efficiency of viral inactivation by UVC rays depends on the dose absorbed by the viruses. This dose is defined by the product of the UV intensity, measured at the level of the virus, and the time of exposure to radiation, and is expressed in mj/cm2.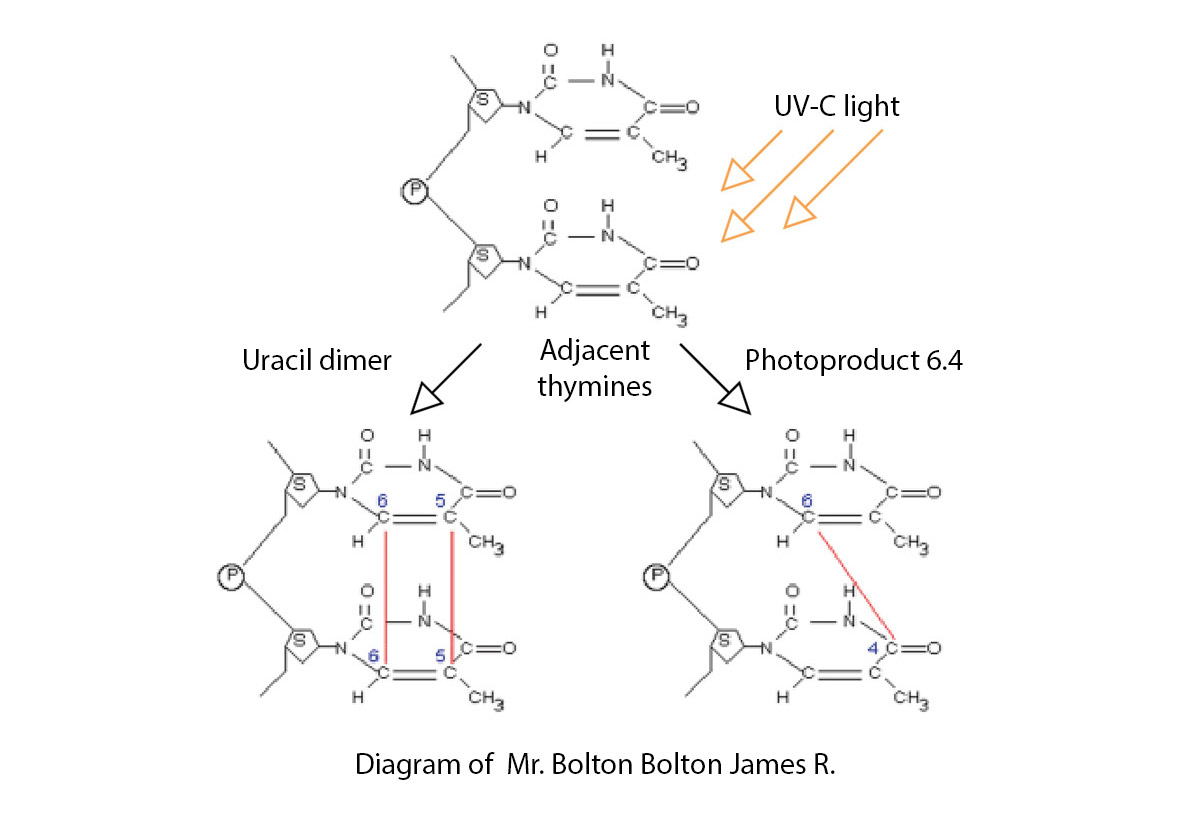 Your safety is our priority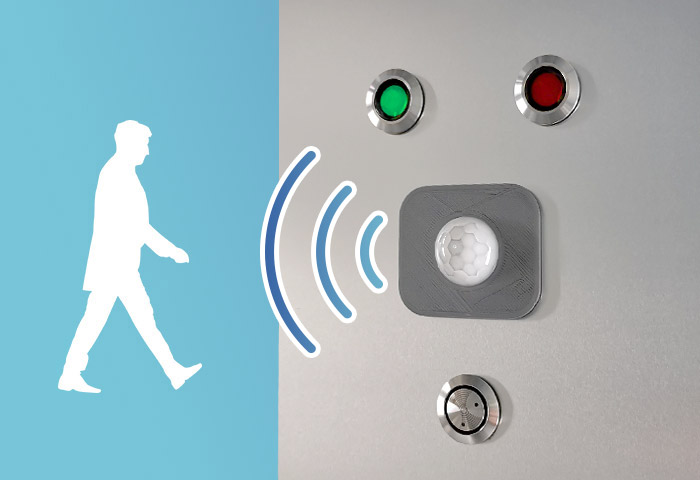 UV-C rays can be hazardous to health, which is why our DEEPLIGHT® solutions are equipped with a motion sensor. In case of intrusion into the disinfecting room, the disinfection will stop as soon as a movement is detected with the aim to prevent the employee from getting close to the UV-C rays.
In order to warn that a disinfection operation is in progress, we can provide door hangers and signage who should be placed at the entrances of the premises.
Control the DEEPLIGHT® UV-C disinfection solutions remotely and safely with the SAFE UVC application! Program disinfections according to your needs and constraints, 3 minutes are enough to destroy 99.99% of viruses and bacteria. Only personnel equipped with the application can start the UV-C luminaires by scanning the QR codes present on them.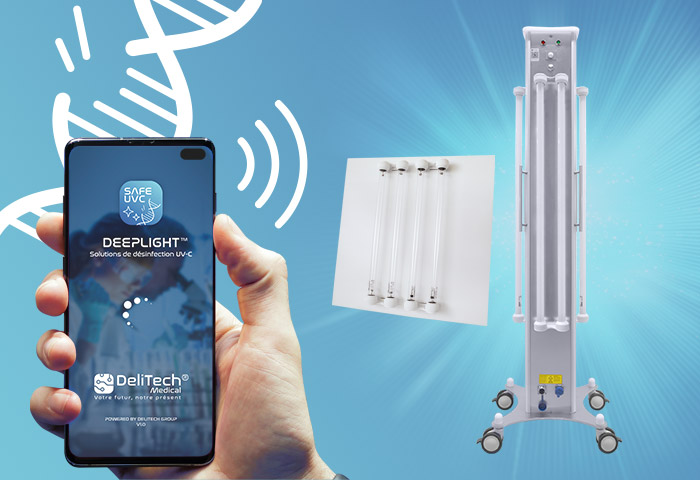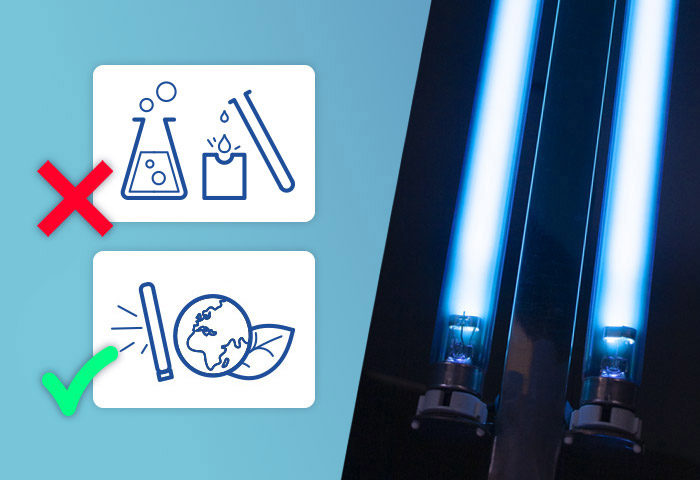 Unlike other technologies such as ozone disinfection, the air will not become harmful to your health. You can therefore enter the UV-C disinfected room as soon as the DEEPLIGHT® solutions are switched off.
In addition, UV-C disinfection does not require the use of chemicals. Disinfection is therefore environmentally friendly, with no side effects or health risks ias long as you are not exposed to the rays during disinfection.

Deeplight® UV-C SOLUTIONS and devices